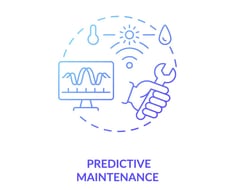 In last week's blog post, Maintenance Strategies Explained, we learned how organizations can customize machine maintenance strategies to achieve optimal production results. But creating an effective maintenance program can be very complex, especially for implementing predictive maintenance, the strategy that boasts the most long-term benefits. But it doesn't have to be difficult, because today I'll cover how to get started with some great predictive maintenance technologies by Omron and Airline.
What is Predictive Maintenance?
Traditional preventive maintenance methods occur at scheduled time intervals, require skilled labor to complete, and rely on time-consuming inspection processes that can raise costs and lower effectiveness.
Predictive maintenance is a more proactive strategy that involves evaluating your equipment's condition in real-time through continuous monitoring. The goal is to use the real-time data collected on the factory floor to identify and address any abnormalities before systems fail, helping to reduce unnecessary costs, maintain regular operations, and account for the lifetime of the machinery.

Learn more about predictive maintenance.
How does Predictive Maintenance Work?
With predictive maintenance, systems are equipped with condition-based monitoring. Machine maintenance personnel use sensors to automate the previously manual equipment monitoring and condition measurement processes. Then predictive maintenance truly begins once a connection is established between the sensors attached to the machine and a monitoring unit. Now, the data collected by the sensors can be analyzed and interpreted.
Using built-in algorithms to analyze the sensor data, these monitoring units will detect if an abnormality or "condition of concern" is present. Once detected, the unit alerts the user to the abnormal condition in multiple ways; through a local alarm bar, the transistor output, or the free IIoT remote monitoring software via the device's Ethernet IP port. By automating the measurement and analysis of conditions through sensors and monitoring units, users can detect and act upon abnormal equipment conditions before failure occurs. All of this results in a reduced reliance on skilled labor, a significant reduction in maintenance expenses, and the near elimination of costly unplanned downtime.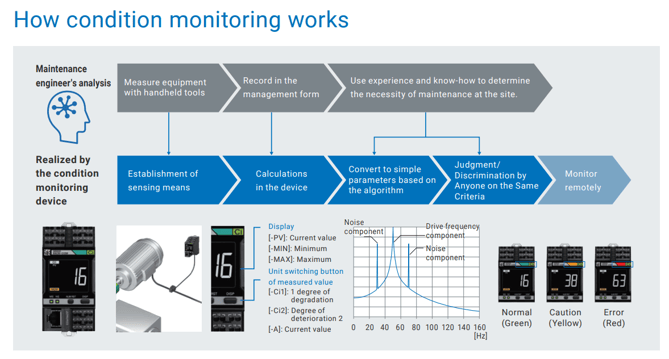 Is Predictive Maintenance Right for Your Organization?
When factoring in the cost of integrating a predictive maintenance solution versus maintaining a preventive maintenance strategy, there are two key questions to ask: "How much-unplanned downtime can you afford?" and "Can you optimize your overall maintenance spend?" In an environment where demand for goods is at an all-time high and skilled labor is declining, adding the expense of component failures mid-production or increased labor costs from manual inspections will significantly impact your bottom line.
Why Choose Omron and Airline for Predictive Maintenance?
Whether retrofitting onto existing equipment or planning for a new production line, Omron and Airline Hydraulics make it easy with a large selection of predictive maintenance products and solutions for a variety of applications.
Predictive maintenance solutions from Omron can help you:
1. Maintain regular operations and avoid disruptions caused by equipment failure
2. Reduce operating expense by providing maintenance only when needed with condition monitoring and analysis
3. Reduce added costs and impact associated with the skilled labor shortage
Interested in learning more about Predictive Maintenance solutions by Omron?
Download Omron's FREE Predictive Maintenance Solutions Brochure
Explore the Omron Predictive Maintenance Product Family

S8VK-X Power Supply
This single-phase power supply provides a live feed of conditions, detects abnormal DC load conditions, and calculates the remaining power supply life. Its user-friendly local display provides easy status visualization at the control panel but can also be monitored remotely over EthernetIP with PC monitoring software.


K6CM Motor Condition Monitor
The K6CM is the latest motor condition monitoring device to quantify the status of three-phase induction motors. With built-in EtherNet/IP & Modbus TCP communication, you can remotely monitor motor load abnormality through current variation, bearing wear through vibration & temperature, or "motor-on" insulation resistance monitoring, depending on the model selected. In addition, the K6CM provides 24/7 monitoring to guard against motor failure by performing multiple checks and alerting users of abnormalities through its local display or remotely using the included software. As a result, this device allows the user to perform predictive maintenance, respond quicker to issues, and reduce operational costs.
For more information about the K6CM, visit Omron's landing page.

K6PM Thermal Condition Monitor
The K6PM is a thermal imaging camera that analyzes the temperature of objects within view over time and detects abnormal thermal conditions before they become serious. In addition, its digital display and alarm bar allow operators of all experience levels to respond to issues. The K6PM also has a local display and remote monitoring capability using EthernetIP and free software similar to the other products.
Summary
Predictive maintenance is a proactive strategy that evaluates your equipment's condition through continuous monitoring. Using real-time data collected on the factory floor, you can identify and address any abnormalities before systems fail. eliminating the frantic search for replacement parts and the hefty expense of unplanned downtime. Instead, manufacturers can make data-driven decisions that reduce unnecessary costs, maintain regular operations, and account for the lifetime of the machinery.
If you have any questions about your current maintenance strategy or implementing predictive maintenance, we'd love to help answer them here!
Related Blogs & Resources
Maintenance Strategies Explained | Reactive, Preventive & Predictive Maintenance
K6CM Hospital Application Success Story
S8VK Automotive Manufacture Success Story
K6CM Motor Condition Monitoring Device
K7GE - Prevent unplanned downtime with remote insulation resistance monitoring
Related Videos