What To Do When Your Application Demands, "More Pressure! More Pressure!"
Ok, so you've run through the initial calculations necessary to determine the hydraulic pressure needed to satisfy the requirements of your application and double checked your math. And now you realize the hydraulic pump and system components you were hoping to use just won't cut the mustard. Your application demands hydraulic pressures in excess of the pressures for which the hydraulic pump and system components are rated for safe operation.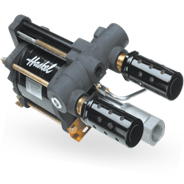 To purchase a custom-built, high-pressure pump is sure to be a budget buster, not to mention the long lead time that could possibly be encountered. You need a better option. Dependent upon the specific needs of your application, Haskel may very well offer the solution to your high-pressure challenge. Since 1955 Haskel has been manufacturing superior quality, high-pressure pumps, valves, and accessories.

The Haskel line of air-operated, high-pressure liquid pumps is ideally suited for hydraulic applications requiring pressures exceeding the output-pressure capabilities of conventional hydraulic pumps. Several pumps within this product family are capable of generating 100,000 psi, far in excess of a typical hydraulic pump. A Haskel pneumatically operated, high-pressure pump is simple by design, involves few moving parts, and uses a ubiquitous and abundant source of energy to drive the pump: compressed air. The internal area ratio of the pump determines the maximum output pressure possible, and the liquid pump's outlet pressure and flow can be easily modulated by regulating the pressure and flow of the incoming compressed air.

A Haskel air-operated, high-pressure liquid pump offers several other unique features. A pump of this type will pump to a set pressure or to its maximum operating pressure, and maintain this pressure for an extended period of time, consuming very little energy during this process of holding a commanded output pressure. Unlike many other pumping devices, a Haskel high-pressure liquid pump can be started under a loaded condition. This type of pump doesn't require an electrical power source to operate, so is ideally suited for hazardous, potentially combustible environments. A wide range of construction and seal materials are available allowing different types of fluids to be pumped, including viscous and low-lubricity media. A Haskel liquid pump is rugged, reliable, and extremely easy to maintain, troubleshoot, and service.
Common Applications for Haskel High-Pressure Liquid Pumps
Applications for Haskel air-operated, high-pressure liquid pumps are limitless, however, these pumps are commonly found in the following applications:
A high pressure must be maintained for an extended period of time with little or no energy consumed in the process of holding the desired pressure.

A pre-fill or high-low circuit, requiring an initial large volume of fluid pumped at low pressure for speed and power efficiency, topped off with a much smaller volume of high-pressure liquid.

High-pressure testing involving "proof" or "burst" pressures. For many components, these pressures are significantly higher than the rated operating pressures.

Clamping, crimping, swaging, tensioning, pressing or forming operations requiring extremely high pressures to ensure the integrity of the final product.

High-pressure injection and metering of chemicals, additives, detergents, and inhibitors.

Processes involving material extraction or separation at high pressures (i.e. liquid chromatography).

Pumping of combustible fluids, operating in potentially hazardous or explosive environments, or in a location without electrical power with an available source of compressed air.
If you have a need to generate high pressures using an economical, proven, off-the-shelf device, consider the use of a Haskel air-operated liquid pump. Haskel complements their liquid pump product offering with a comprehensive line of high-pressure valves, gauges, fittings, and tubing. Airline is the exclusive authorized Haskel service, repair, and systems center in the Northeast.
Information and Downloads