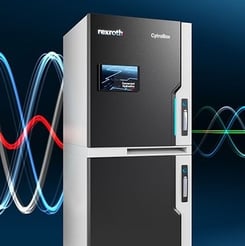 If you look at hydraulic power units (HPUs) from 15 years ago to today, they generally look the same, since HPU technology and designs have remained relatively unchanged for decades. But if you look at the CytroBox, the new all-in-one power unit from Bosch Rexroth, it appears more like a modern household refrigerator than a hydraulic power supplier! More than just looks, this unit is revolutionizing the way we look at hydraulics in a very cool way, so let's take a peek at what you'll find inside of a CytroBox and what makes it so different from the norm.
Watch my video where I tour the CytoBox we regularly use to test our hydraulic subassemblies.

What is Bosch Rexroth's CytroBox?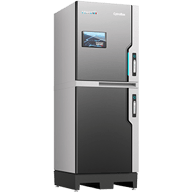 Bosch Rexroth's CytroBox is a compact, modular, and IoT-capable hydraulic power unit for the medium performance range of 7.5 kW to 30 kW. It comprises impressive and compact hydraulic and electrical controls components, and when compared to previous units, considerably saves space and reduces the amounts of space, energy, and noise emissions. To those who think IoT is a bunch of industry fluff, the CytroBox includes practical and extremely useful IoT applications right out of the box.
What's Unique About It?
New Compact Design

Typically, a hydraulic power unit takes up considerable floor space. But the CytroBox's size is similar to a free-standing control cabinet, saving up to 75% valuable machine floor space.
How did they do it? The tank no longer supports the other components, as Rexroth developed a unique supporting structure for this purpose. The drive unit is equally compact, which usually takes up a large amount of space in hydraulic power units. The manifold, too, was completely redesigned. As a result of their compact and flow-optimized inner design, the CytroBox has a footprint of just 0.5 square meters (instead of 1.5 - 2 square meters).


Degassing Flow-Optimized Tank

Speaking of flow-optimized inner structure, CytroBox developers improved the tank geometry so skillfully that the new unit only needs a quarter of the oil required by classic designs (instead of 600 liters, 150 liters) – with at least the same service life.


Efficient Motor Design

A synchronous servo motor has replaced the asynchronous servo motor, an efficient design that produces the same torque, regardless of it being 80 to 90% smaller.


Energy Savings

With the CytroBox, enjoy energy savings of up to 80% compared to constantly driven power units.

How did they do it? Flow is managed by a fixed-displacement A10 axial-piston pump driven by an Indramat MS2N servomotor. The variable-speed pump drive adjusts energy consumption as needed. Speed is reduced when under partial or no load to save energy and, conversely, increased under full load with a highly dynamic response.
Noise Reduction

With the CytroBox, hear a 10 dB(A) noise reduction. In fact, total noise emissions are lower than 75 dB(A). How? The airborne sound is entirely absorbed by the compact arrangement of the components in one unitary housing and the built-in sound insulating mats.



IoT-ready

In the CytroBox, find a ready-configured drive controller with numerous integrated functions. Various sensors provide information on the unit's filter, oil, and drive status. The collected sensor data is bundled via an IO-LinkMaster (learn more about IO-Link here) and pre-processed by the drive controller so they can be easily interpreted and integrated. This means that the CytroBox arrives fully IoT-ready and connected to their built-in (and free) software, CytroConnect Monitor.


Ready for Present and Future IoT Needs
Check out these applications that come standard and as add-ons for the CytroBox.
CytroConnect Monitor
Comes standard with every CytroBox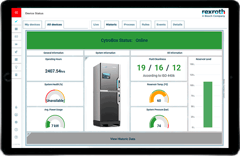 Every CytroBox includes CytroConnect, where operators have all information regarding the CytroBox at their fingertips at all times for visualization of the component and operating status. The data is also transferred to Rexroth's Online Diagnostics Network (ODiN) for preventative maintenance analysis, and via Multi-Ethernet or 4G-LTE, the CytroConnect Monitor web-based dashboard. As a result, operators are always updated with their current operating status and key indicators on any end device (tablet, smartphone, PC). This plug-and-play service is free of charge and can be used without additional installation work.

CytroConnect Maintain
Add-on application (pay-per-use or monthly subscription)
The CytroConnect Maintain module offers historical sensor data and additional alerts for required maintenance and critical operating statuses. Data concerning the most vital components for reliability and working life (the hydraulic oil and the drive unit) are assessed. It provides comprehensive insights into the correlation between the speed of the servo motor and the flow, which allows monitoring of system leakage. The system draws correlations between motor data and the operating pressure to make conclusions regarding drive behavior. The temperature, level, particle, leakage, water, and oxygen sensors are additional data sources to diagnose a status.
CytroConnect Predict
Add-on application (pay-per-use or monthly subscription)
CytroConnect Predict uses machine learning algorithms within the Rexroth Online Diagnostics Network (ODiN) to provide predictive analysis of the system. For a wide range of components, recorded power curves provide helpful data analysis. In the event of deviations, the prediction system automatically calculates the component's expected remaining operating life and immediately informs the operator via an alert. As a result, maintenance can be taken into account predictively in the operator's maintenance plans, ensuring maximum system availability.
Summary
The CytroBox is making waves in the industrial hydraulics world, and for good reason. This all-in-one power unit brings a unique standing design (that brings huge space savings), energy savings, noise reduction, and IoT integrations, making it unlike anything else on the market. If you have questions or want help assessing your application, reach out to one of our experts who are happy to help!
CytroBox Resources and Information
Other Resources & Information
Explore More Technically Speaking Articles
Related Videos
CytroBox: Manufacture #LikeaBosch
View More Videos on our YouTube Channel