Manufacturing facilities are always busy, no matter the time of year. With many departments working together to produce or assemble products, it can get hectic controlling your facilities' quality, environment, and safety, especially when there is too much to get done and insufficient staff. So what is a business to do when they need workers, but there is a global labor shortage? The solution is to automate your processes with the latest technology. Luckily, Airline's automation experts are here to help.
Skip to a Section
Watch Airline's 2022 Holiday Video! 🎁
Automating processes can help any facility increase output, even if you're short-staffed and live at the North Pole. Watch our Holiday Video or keep reading to learn more about how automation and the latest technology can benefit companies, employees, and customers.

Why Automation?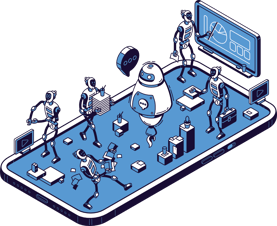 Basic automation takes simple, repetitive tasks and automates them, freeing up valuable staff members for more productive tasks. So, why automation? Because in today's world, with an ongoing global labor shortage continuing to crush the manufacturing industry, having employees work on more important tasks rather than repetitive tasks is critical for reaching desired outputs.
Automation Benefits Companies, Employees, and Customers
Automating your processes helps with the inevitable. Currently, there is a very high employee turnover rate, a shift in worker expectations, an aging population, and fears of COVID-19 exposure. While this may all sound alarming, it shouldn't prevent you from keeping up with your day-to-day tasks. The solution? Upgrading to the latest technology and automating your processes reduce costs and improve productivity, resulting in more satisfied customers.
Additionally, automating your process won't replace employees. Instead, it will make the tasks employees have more manageable. For example, repetitive motion is dangerous for workers and can lead to long-term health concerns, costing time, money, and overall health. Luckily, by automating your processes to the latest technology, like collaborative robots, barcode scanners, electric case lifters, and automated guided vehicles, staff members no longer have to do repetitive tasks. Now, employees can do more important tasks while doing less work and being more productive.


Also, automation improves employee satisfaction. Employees who feel more valued about their daily tasks are more committed to their job and organization.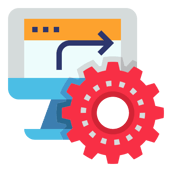 Employee retention is vital for companies in the face of the ongoing labor shortage, mainly because this global issue hinders company growth and affects customer supply chain and lead times. Resulting in contract violations, poor customer satisfaction, and order inaccuracy. So how can everything get done during this labor shortage crisis and still make our customers happy? The solution - automate your processes with new technology, watch your ROI grow, and watch customers choose your company as their preferred supplier.
Ready to get started with automation? Check out our articles:
Industry 4.0 Technologies that Pay Off Now
Latest Automation Technology
Omron offers easy-to-use, easy-to-install barcode readers that can read the most challenging codes.
FRED is a user-friendly AGV (automated guided vehicle) that can be set up in under 2 hours and brings most users ROI in under 12 months!
The OMRON TM Collaborative Robot is designed to work with humans and machines in any application with quick start-ups and rapid changeovers.
Summary
It's difficult to ignore the reality of a high employee turnover rate, a shift in worker expectations, an aging population, and fears of COVID-19 exposure. So what can a business do when they need employees but can't find them? The solution is to automate your processes with the latest technology and, even without new employees, watch your ROI and productivity increase.
Need help getting started with automation?

I'm here to help!

Airline's Automation General Manager, Todd Huber, is ready to help you discover practical and cost-effective automation opportunities for your application.

Book a meeting
More Articles & Resources