Today's control systems, industrial machines, and plant networks all have some method of Ethernet Communication. Controllers need to send and receive data back and forth from field devices for vital control, data acquisition, and diagnostics. While it may seem like a simple task, it's not always as easy as just running an Ethernet cable. For example, the end devices may be hard to get to or are in constant motion. Situations like these are perfect for Wireless Ethernet. In this article, we'll define industrial wireless ethernet and what applications it's best suited for.

Jump to Section:

A Brief History of Wireless Ethernet

A Brief History of Wireless Ethernet (Wi-Fi)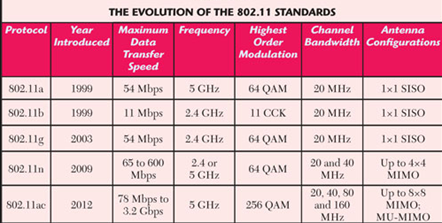 In the 1980s, the IEEE (Institute of Electrical & Electronics Engineers) developed the 802.11 standards for Wireless Local Area Network (WLAN) communication. These standardized important parameters, for example, which frequencies in the wireless spectrum should be used (2.4 GHz & 5.0GHz, etc.), and MAC & physical layer parameters.
In 1999, the Wi-Fi Alliance was formed, stating how the 802.11 standards are interpreted and improving cross-compatibility between wireless devices. In the image above, you can see how Wi-Fi (based on the 802.11 standards) has advanced with faster data transfer speeds, channel bandwidths, and antenna configurations over the years. The letter after 802.11 is used to denote the speed that each Wi-Fi-capable device is designed to handle.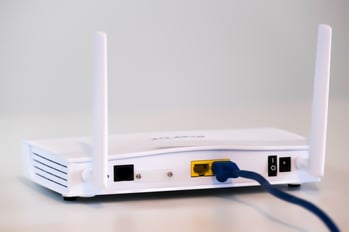 How Industrial Wi-Fi Works
Wireless Ethernet uses radio waves to transmit and receive data. With Wi-Fi established and standardized, it took many different forms, but you're probably most familiar with the Wi-Fi found in most homes today. Homes have a router, which has a connection to the internet and Wi-Fi built-in, meaning it can send and receive data via a Wi-Fi connection to other Wi-Fi-enabled devices like smartphones, tablets, and PCs. That connection allows those connected devices to send and receive data from the Internet (as well as other local Ethernet devices on your network). Manufacturers took this same Wi-Fi technology to the industrial world and made it more rugged and reliable for control systems.
While Industrial Wi-Fi uses the same technology from your home network, the devices themselves are different in a few key ways. The radio itself is industrially rated, meaning it can perform in a much wider range of temperatures, can mount on DIN Rail or Industrial Enclosures, is powered by 24V DC, is not affected by shock, vibration, or electrical noise, and has UL & Hazardous approval ratings for harsh environments.
The Benefits of Wi-Fi in Industrial Applications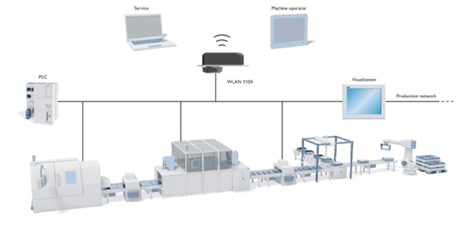 In industrial applications today, Ethernet communication is the default for connecting controllers (like PLC's) to other field devices used to automate a system.
While you could connect all these devices via Ethernet cables, here are four main issues that can arise:


Higher costs
Cable costs quickly add up, making it expensive to run ethernet cables to devices.
Limited mobility
Many end devices (like robotic arms, AGV's, etc.) need to move, and cables limit freedom of movement.
Difficult placement
Some places are just hard to get to for wiring.
Breakage
The more cables used, the greater the chance of them breaking, being snagged, or getting disconnected from their Ethernet switches.


This is where Industrial Wireless Ethernet (Wi-Fi) can really be a benefit. Products like Phoenix Contact's Industrial Wi-Fi radio FL WLAN 1101 allows machine builders & end-users to implement a Wi-Fi network into their system for Ethernet network flexibility, freedom, and simplicity:
Flexibility
Industrial wireless systems provide reliable communication between the controller and autonomous transport systems, warehouse shuttles, or carry systems.
The Wi-Fi radio can be used as an Access Point, Client, or Repeater. You can use the Radio to make remote changes to the control system, collect data from machines to an upper-level network for IIoT purposes, or extend the Wi-Fi network in your industrial plant.


Design Freedom
Do you have AGV's, Robots, or other devices that need to move and communicate constantly? Then, mount an industrial Wi-Fi radio onto the device, and problem solved!
Simplicity
Maximize your design and eliminate the time and expenses associated with cable installations.
Summary: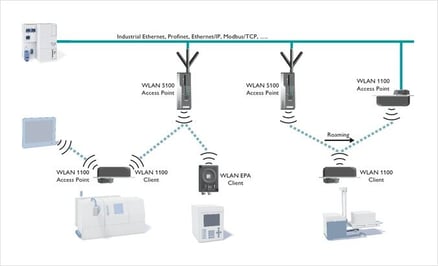 Industrial Wi-Fi is similar to the Wi-Fi you likely use every day, just ramped up and armored, enabling a smarter, more efficient, and cost-effective operation. Whether you use Industrial Wireless Ethernet today or not, you probably will soon. With a digital future focused on the Industrial Internet of Things (IIoT), the use of smart devices like tablets and smartphones is becoming a common design element throughout industrial systems for setup, data acquisition, diagnostics, and maintenance.
If you have questions or need assistance with your Wireless Ethernet system, Airline Hydraulics has industry experts and wireless technologies that can help you meet your needs.
Don't forget to subscribe to our blog!
If you have a question or comment about this post, please leave it in the comments below!
Resources and Information:


Contact Us:


Ask your Airline Rep. or contact us for assistance with ordering or customizing an order.