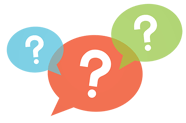 Our engineers seem to get asked this question all the time, "what do you really do?" That will of course depend on an engineer's chosen discipline (mechanical, electrical, aerospace, etc...), their specialty within that discipline (automation, safety, controls, etc...), and current job responsibilities/experience, but at its core, all engineering is problem-solving.
The problems they solve could be as microscopic as medical-grade robotics equipment, or as large as designing a skyscraper to withstand a hurricane, but at the end of the day, engineering impacts all of our daily lives whether we realize it or not. Let's take a look at one of our successful engineering applications as an example of what engineers do on a regular basis!
Skip to a section
The Project | The Players | The Task | The Call
Keys to Success | Results | Summary | Careers at Airline
The Project
The Maryland Transportation Authority (MDTA) wanted to build a new bridge to replace the original U.S. Route 301 over the Potomac River, the 4th largest river on the East Coast, but needed to get creative due to limited resources.

This project presented many unique challenges. MDTA knew they wanted to improve safety and inspection activities, as well as enhance emergency response. Other big factors included accommodating lane sharing for cyclists, and doubling the driving capacity. They also needed to figure out what to do with all of the debris from the old bridge!
The Players
This project took a ton of collaboration. With the MDTA's 463 million dollar budget, they were looking for an engineered solution with many deliverables, despite ongoing supply chain shortages, so MDTA knew they needed a resourceful team capable of engineering a multi-million-dollar project. But what one construction group can engineer, source, and execute a new bridge of this magnitude, while working directly on the water, with limited resources? MDTA decided to select a joint construction venture team, made up of three popular contracting groups with local ties to build the new bridge to undergo this massive project.
The Task at Hand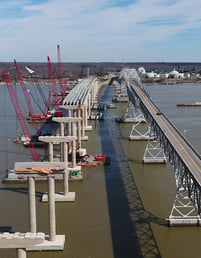 With the financial logistics in place, the construction team had to figure out how to execute the plans to assemble the new bridge, all while floating on the Potomac River, alongside an activ, 1.9-mile-long, four-lane bridge with 18,000 plus daily drivers.
The largest remaining question they needed an answer to -
How do you keep these almost 100,000-pound cranes stationary while lifting components into position?
Well, that's when the contractors called our engineers at Airline Hydraulics.
Getting the Call

Glenn Jackson, Senior Hydraulics Application Engineer, and Kelly Keppel, Hydraulics Application Engineer worked with one of the contracting groups to create an engineered solution that would allow the almost 100,000-pound cranes to remain stationary while lifting components into position. Using Pullmaster H75 Winches, Airline engineered a solution where these cranes stay stationary, and allow components to be moved into position successfully and safely.
Glenn and Kelly developed a custom solution by building a diesel power unit from scratch with a John Deer engine, a custom skid, and a reclaimed older power unit that was used to run the barge positioning systems by TWG.

Keys To Success

Projects like these don't succeed without resourcefulness and knowledge. We like to think that our engineers are successful in situations with limited resources because of our stock flexibility and wide array of resources, especially in these times of supply chain issues. Our engineer's were vital to this build by providing hydraulics and controls expertise, as well as supplying a completely custom solution that utilized a variety of components to make sure the job got done and efficiently and on-time.
Results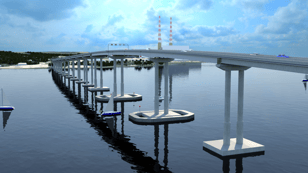 The new bridge construction will improve safety, enhance emergency response, maintenance, and inspection activities, accommodate lane sharing for cyclists, and double driving capacity. Once complete, the original bridge will be demolished and portions of the bridge will be used to create artificial reefs in the Chesapeake Bay. In addition, since the project's start date, MDTA and construction groups have been partnering with the Potomac River Fisheries Commission and the Maryland Department of Natural Resources to fund oyster seeding in the lower Potomac River basin.
Summary



Next time someone asks, "what does an engineer do?", you can answer with "solves problems, big and small!" and share this application story as an example of the real-life problems that engineers solve.

The bridge project is one of the region's largest transportation initiatives and will improve mobility, safety, and economic opportunities for southern Maryland, northeastern Virginia, and the region. Airline and our engineers are proud to work on projects like these that are challenging to the organization and impactful to the entire community.
Careers at Airline - Design the Future
For over 72 years, Airline's been a leading regional distributor with a strong team that custom-engineers technology solutions for all sectors. Check out our available positions or learn more about our company culture here.