If you work with medical devices, you may already be familiar with Unique Device Identifier (UDI), the important labeling system used for all medical devices. However, you may need to become more familiar with the intricate waters of UDI regulation, specifically the Food and Drug Administration's (FDA) new guidelines on UDI, which will go into effect this September 2023. If you are unaware or unprepared for this, don't worry - I'll catch you up to speed. In this blog post, I will explain the basics of UDI regulation and cover the required tools and technologies.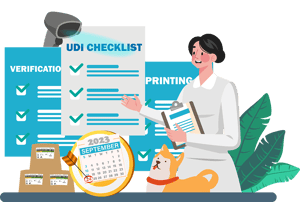 Keep reading and register for our FREE webinar, with more details on UDI label marking, verification, and strategies to reach compliance.



Skip to a Section




What is UDI, and Why is it Important?
UDI stands for "Unique Device Identifier," a system used in medical devices to identify and trace individual medical devices throughout their lifecycle. The identifier has alphanumeric characters to show the manufacturer, model, and production information.
Throughout my years in the field, I've had the privilege of refining processes in key areas such as label review, printing, and inspections. Because in the world of medical devices, accuracy, and compliance aren't just buzzwords; they're the anchors keeping patient safety and operational efficiency afloat. And in my experience, many companies focus on printing compliant UDI labels and overlook a critical aspect; the verification process. So with September 24, 2023, right around the corner, there's no better time to prepare your ship for the journey ahead.
Understanding UDI Compliance
Regulatory oversight of UDI is crucial in ensuring the safety and effectiveness of medical devices and protecting patients from potential harm caused by faulty or unsafe devices. Compliance with FDA guidelines, ISO standards, and GS1/HIBCC labeling requirements is critical to ensuring the accuracy and efficiency of UDI labels.
Specific ISO requirements dictate how barcode scanning and verification should be carried out to achieve compliance. And proper verification is vital to prevent potential errors, ensure patient safety, and maintain regulatory standards.


For more specifics on UDI standards - register for our free webinar where we take a deeper dive into UDI standards and compliance.
What are the consequences of non-compliance with UDI standards?

Non-compliance with UDI standards can have several consequences, leading to "all hands on deck" for medical device manufacturers and other stakeholders:


1. Regulatory Action: Regulatory agencies, such as the FDA, can take enforcement actions against manufacturers and distributors who fail to comply with UDI regulations. This could include warnings, fines, product seizures, or even injunctions against further production or distribution of non-compliant devices.
2. Recalls and Corrective Actions: Non-compliant devices might need to be recalled or corrected, leading to financial costs associated with the recall process.
3. Legal Liability: If a non-compliant device leads to patient harm or adverse events, manufacturers might face legal liability and potential lawsuits from affected patients, healthcare providers, or regulatory bodies.
4. Market Access Issues: Non-compliance could lead to delays or denials in gaining regulatory approval or clearance for new devices. Existing devices that are non-compliant might face restrictions in their market access, affecting their sales and distribution.
5. Reputation Damage: Recalls and corrective actions can further harm a manufacturer's reputation within the industry, potentially leading to decreased trust and customer loyalty.
Common Challenges in UDI Label Verification

During the UDI label verification process, certain challenges make it feel like you're sailing against the wind. Here are just a few I've run into when helping clients:


• Data Accuracy: Ensuring that the UDI data printed on the label accurately matches the device's specifications and regulatory requirements.
• Label Consistency: Maintaining consistent label formatting and design across different batches or variations of the same device can be challenging.
• Label Placement: Properly affixing the UDI label to the device in a visible, durable way, and not prone to damage during handling or use is crucial.
• Printing Quality: Ensuring that the UDI labels are printed with high quality and clarity is important for human and automated systems' readability. Wrinkles, voids, and clogs in the barcode can lead to inaccuracies and misreads, jeopardizing compliance.
• Labeling Verification Processes: Establishing effective procedures to verify UDI labeling accuracy during manufacturing, packaging, and distribution is essential to prevent errors.


For more on overcoming these challenges - register for our free webinar where we take a deeper dive into UDI setbacks and solutions

Barcode Scanners and Readers for UDI Label Verification
One of the critical factors in achieving accurate UDI label verification is using reliable barcode scanners and readers. These devices must meet ISO standards to provide consistent and precise readings. When selecting a scanner, consider features such as symbology support, decoding capabilities, connectivity options, and data validation mechanisms. You can gain a competitive advantage and ensure compliance by choosing the right scanner for your applications. Keep reading to learn more about Omron's breadth of reliable, straightforward medical device technologies.
Charting a Course with Omron's In-Line Verification Products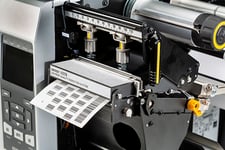 Unleash the power to inspect every printed label with unrivaled precision, ensuring all barcodes and printed text adhere to the strictest specifications with Omron's in-line verification products. The V275 In-Line Verifier and Print Quality Label Inspection tool, emerge as pillars of efficiency, offering features like backup and overstrike, peel and present, an integrated print quality inspection engine, and the ability to print and verify labels up to 6.6" wide at an impressive 8" per second.
Navigating the Complexity with Off-Line Barcode Verification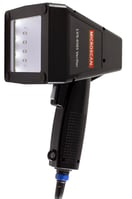 Precision is paramount in the intricate realm of quality control, and Omron's LVS-9585 truly sets the standard for excellence. It's not just about measuring barcodes; it's about ensuring they meet the highest quality under even the most specific lighting conditions. So when it comes to Direct Part Marks (DPMs) and their unique challenges, Omron is the compass pointing in the right direction.
Keep Learning: Join Our Webinar!
If you're ready to learn more about the intricacies of UDI compliance, patient safety, and operational excellence, we invite you to join our free webinar. Explore real-world application examples of verification success and learn from cautionary tales serving as guiding lights. In a landscape where precision can mean the difference between success and setbacks, this is an opportunity you must take advantage of.
In Summary...
The medical device industry is gearing up for a significant change as the FDA's September 24, 2023, deadline approaches. By this date, all barcodes, known as Unique Device Identification (UDI) labels, must comply with the updated standards set by the FDA and other regulatory bodies. And while many companies focus on printing compliant UDI labels, a critical aspect often gets overlooked - the verification process. Don't let the tides of UDI compliance catch you off guard. Equip yourself with the knowledge, tools, and expertise needed to sail confidently toward compliance, patient safety, and operational excellence.
Resources
Shop Omron Barcode Scanners & Readers