We recently announced the expansion of our authorized Phoenix Contact sales territory to include Western New York and New England. But why is our relationship with Phoenix Contact so important, and what does it mean to customers like you? I'll be covering this and giving my personal thoughts in today's blog post (and video).

Skip to a Section
Who is Phoenix Contact? | Benefits For Customers | A Growing Relationship | Final Thoughts


Watch my video here.
Who is Phoenix Contact?
Phoenix Contact is a world-class leader in electrification, networking, and machine automation solutions. Basically, Phoenix is used wherever processes need to run automatically. This can be in industrial production facilities, infrastructure, or complex device connections. Wherever power or data flows are connected, distributed, and controlled, you can find a Phoenix Contact product.
Why would we expand with them? Because they are a first-class manufacturer, and their values are closely aligned with ours. We see this propelling into the future, as we have since 2016. As an Automation Elite Distributor of Phoenix Contact products, we'll continue specifying, stocking, and supporting their advanced suite of technologies.
I'm also excited about the new products they're rolling out and how well they will fit into the semiconductor market, medical device, heavy industrial, and mobile businesses we serve. And their limited-lifetime warranty continues to be a standout in the industry. What a diverse offering from a fantastic organization. Learn more about Phoenix Contact here.


How this affects you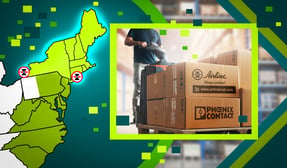 If you're in New England or Western New York, you'll now get all of the puzzle pieces of our line card. All the things we sell today, pneumatics, hydraulics, and framing, can be controlled or monitored with some type of Phoenix Contact product. You can expect our local expertise and continued focus on customer-specific inventory regarding Phoenix Contact and all of our other lines/services. We have offices in North Kingstown, Rhode Island, and Lancaster, New York, and provide an easy way to transact at airlinehyd.com.
A growing relationship
To think, less than seven years ago, we started with an authorized sales territory of just Maryland and a part of Pennsylvania. Today, we have blossomed as an organization with them, growing our territory over time. This expansion is a big move for us and a significant move for Phoenix.
Talking with Jon Durand, Northeast Regional Sales Manager at Phoenix Contact USA, he offered his thoughts:


"Airline has been successfully growing business with us since they first became an authorized Phoenix Contact distributor beginning in September 2015. Their original territory included the greater Mid-Atlantic area. At the end of 2022, they expanded south with us into North and South Carolina. We are pleased to support Airline's most recent northern expansion with our line, including New England and New York state.
Airline is one of our fastest-growing distributors, and much of its success can be attributed to several key factors. They have a very competent sales and technical support staff that are always ready to support their customers and applications. Airline continues to invest heavily in maintaining a strong inventory position with our products, and they have a comprehensive website that enables them to support customers online. We thank Airline for all of their contributions and also congratulate them on this latest expansion."
Final Thoughts
Airline isn't just a pneumatic and hydraulic organization. We're taking over control products opportunities and doing it well. While other companies are falling flat on their faces right now regarding meeting delivery, we have stayed consistent with Phoenix Contact. So we're excited about Phoenix's can-do attitude paired with our technical aptitude, making us a perfect team to provide productivity and safety to all industries.
Resources