| | | |
| --- | --- | --- |
| Jump to section | | Machines need to be monitored, there's no way around it. IoT isn't going anywhere, and technology is only going to get more immersive. Getting timely and accurate data is critical for things like preventative maintenance, troubleshooting, and condition monitoring. Getting that necessary data in a safe, easy, and cost-efficient way, however, has always been the challenge, and don't even get me started about recording, storing, and analyzing that data. |
Do I Have to Collect Data?
Not collecting machine data is exponentially more expensive over time. Improper data collection and interpretation can lead to:
Reactive

maintenance

- Routinely addressing problems after failures have already occurred, rather than planned and preventative maintenance during scheduled downtime.
Long periods of downtime - Often while you wait for custom or rare replacement parts after a component failure.


Obstacles of Data Collection

So yes, you do need to collect machine data, but it isn't always that easy. The most common problems that make data collection and monitoring difficult are:
Units located in dangerous environments.
Machines handling hazardous materials.
Logistics issues hinder access to key machine circuits.

Acquiring data requires technicians to be in a dangerous position with a running machine.

Data collection interrupts necessary production.
Additional data collection can be extremely expensive and/or complicated to configure.
Low staffing or high maintenance costs to collect and interpret data.

and so much more!
The Solution for Easy Data Collection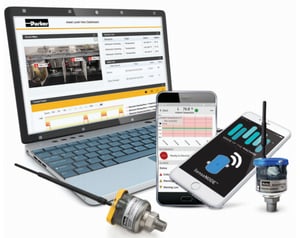 Parker looked at the everyday challenges of traditional monitoring and saw the need for a cost-effective, safe, and simple condition monitoring solution, so they developed SensoNODE sensors.
These sensors are accurate, compact, energy-efficient (up to 5-year battery life), and can be used in a wide range of applications to help predict problems and prevent downtime, requiring no wiring or hardware.
Parker's SensoNODE continuously and wirelessly monitor processes, allowing for remote condition monitoring via Bluetooth (app) or the cloud (any internet connection). Wireless connection results in both a safer and more efficient work environment for technicians, as they can run diagnostics away from harsh environments and export and share logged data through email or text. SensoNODE replaces the time-consuming process of slowing down production, walking to individual units, checking each gauge, taking and organizing notes, then eventually (or hopefully) analyzing those numbers.
The sensors are extremely easy to install, and record data in both real-time and as historic trends, making it easy to diagnose problems before hardware is damaged or in need of repair. Essential for preventing older or outdated components from being damaged.
SensoNODE
Blue

vs. SensoNODE

Gold

Parker breaks SensoNODE into two different classifications, SensoNODE Blue and Gold. We'll break down their purposes below, but first, watch the video below to get a feel for what SensoNODE really is.
SensoNODE
Blue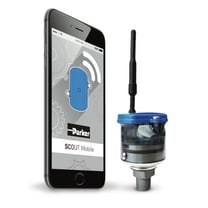 SensoNODE Blue sensors are designed with mobile devices in mind, as they use Bluetooth (I see what they did there) and an app. They are used primarily with route-based monitoring, and are ideal for short-term monitoring right when you need it, taking measurements from individual machines. With an average range of 100-150ft, it is the perfect solution for on-site monitoring to aid your diagnostic efforts.
Using Bluetooth means no network and support are required, while still granting mobile access to machines and processes. No external power source is required, LED indicators help to identify the sensor status, and the sensor housing is sealed for harsh environments.
SensoNODE Blue sensors measure pressure, temperature, humidity, strain, and analog input 4-20mA,
Blue sensors are a wonderful option for many small and medium sized operations to get fast, safe, and accurate data on a routine basis from their machines, reducing maintenance costs and preventing downtime.
SensoNODE
Gold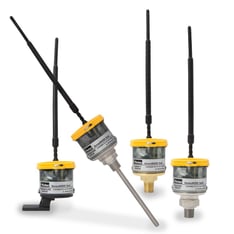 SensoNODE Gold is the networked counterpart to SensoNODE Blue. Gold sensors allow for continuous remote condition monitoring via the cloud or local enterprise applications. As long as you have an internet signal, you can receive up-to-date measurements. This allows for remote monitoring of multiple sites, anywhere around the globe. Continuous monitoring also brings custom alerts along with it, informing you the instant something may not be right.
Gold sensors have all the functionality of Blue, while also measuring flow and vibration.
SensoNODE Gold sensors are ideal for operations where shutdowns are especially c o s t l y, or where continuous remote monitoring is needed (or preferred).
Conclusion

Parker's SensoNODE sensors make advanced condition monitoring cost-effective and accessible. They easily and accurately measure, monitor, and analyze machine data, helping you reduce maintenance costs and prevent downtime.


Resources & Contact Info
Contact us

for assistance with ordering. As your Parker distributor, we're here to answer any of your pricing, ordering, or technical questions.