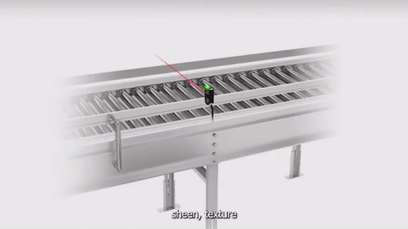 Sensors provide vital functions on manufacturing and shipping lines, but as "custom" has become the new "standard," products and boxes of different sizes, colors, shines, and textures are all making their way down these lines at once. Being able to sense all of these differences can be a real challenge (or impossible) for systems relying on specific background colors or reflectors, as they can be easily misread or distorted by the target or environment. Omron's solution is their new Time of Flight (TOF) photoelectric technology, all accessible with a single teach button, as part of their E3AS Distance-Settable Sensor Series.
Airline brought in Omron Automation's Mike Gildea to give us a quick demonstration of the E3AS-F Time of Flight Sensor, which you can watch below, and keep reading for more useful specs and information!
How Does it Work?
Omron's Time of Flight (TOF) technology sends out a large spot infrared laser and measures how long it takes to return that light to the receiver. Since the sensor measures the distance based on the time elapsed, it can detect targets that pass through regardless of their size, color, contour, texture, or sheen. So the days of needing reflectors and worrying about colors and flat surfaces are over!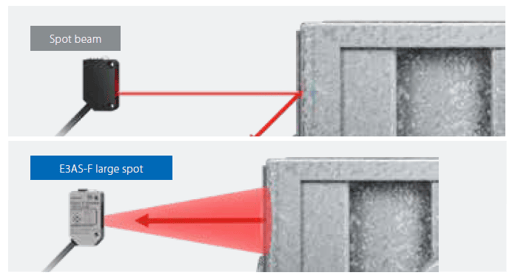 Easy to Program!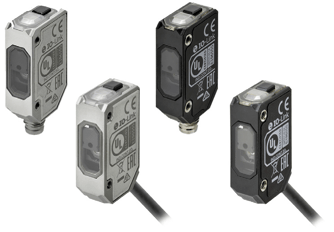 Possibly the best part about the E3AS-F is the one button, single-touch programming. Just hold down the programming button for more than 1 second, but less than 5 seconds and the sensor will flash yellow, indicating that it is searching for a background target. When the light turns back to solid green, it means the sensor is ready to detect whatever objects pass through the sensing range. It's that easy!
Notable Features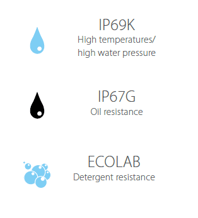 The E3AS-F has a compact form, is IP69K and IP67G rated, and the sensing surface has the industry's first anti-fouling lens coating, making the sensor accurate and durable in even the harshest environments.
IO-Link compatibility helps reduce downtime and maintenance costs by enabling effortless startups and changeovers.
The 50-1,500mm sensing distance enables use on virtually any conveyor line width.
Summary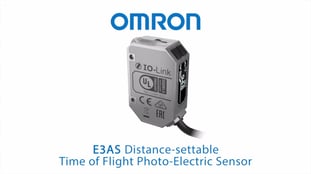 The Omron E3AS-F Time of Flight Sensor uses the newest technology to detect targets regardless of size, color, contour, texture, or sheen.
The straightforward setup utilizes a single button and one-teach programming, and IO-Link compatibility makes maintenance a breeze.
The IP69K housing and industry's first anti-fouling lens coating keeps the sensor on and accurate even in the harshest environments.
If you'd like more information about the E3AS-F, or the E3AS family of sensors, you can check out this PDF brochure.
If you have questions or want help assessing your application, reach out to one of our experts who are happy to help, or you can shop the E3AS sensor now!
Resources & Information
E3AS Sensor Family Information
See Specifications on Omron's Site
View More Videos on our YouTube Channel
Explore More Technically Speaking Articles
Related Videos
Omron E3AS-F Demo & Review │ Easy Photoelectric Sensor for Conveyors
Antifouling Lens Coating on the OMRON E3AS Photoelectric Sensors