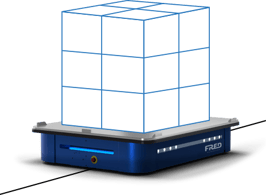 It's hard enough to meet business goals, and supply chain and labor shortages make it more challenging by the day. As a result, optimizing operations, especially end-of-line processes, is so critical. You know routine tasks, like moving objects from point A to B, are prime candidates for automation— Plus, you'd like employees to utilize their skills and training, not do repetitive tasks all day. But automation seems so daunting!
What if I told you adding an automated guided vehicle (AGV) for end-of-line product transporting can be one of the easiest and worthwhile things you do as a manufacturer? Let me introduce you to my friend FRED, a user-friendly AGV that can be set up in under 2 hours and brings most users ROI in under 12 months!

Skip to a section

:
Meet FRED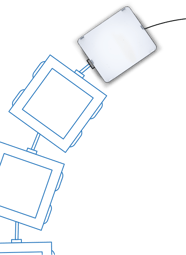 FRED is an AGV that specializes in automating A to B processes in a way that's straightforward and easy to operate. FRED is guaranteed to boost productivity and efficiency while limiting opportunities for downtime. It can carry up to 2,500 lbs, as well as tow an additional 5,000 lbs (that's 7,500 lbs total). With some extra gadgets like lifts and conveyors, it can even pick up, transfer, and deposit payloads, all at the press of a 100m range wireless button.
FRED follows its path from A to B by reading magnetic tape laid on the ground. That means FRED requires no software, IT updates, WiFi, GPS, or Bluetooth. This keeps FRED impervious to hacks, and incredibly flexible as your paths and processes update. Just lay down some new tape and you're ready to go!
Key Features
Simplicity
It may seem hard to believe, but FRED can be up and running in about 2 hours! Installation is as easy as unloading, mapping your route, laying the magnetic tape path, and pressing go! Updating FRED's routine is as easy as applying new tape. No need for software, IT, WiFi, GPS, or updates!
Productivity
FRED is the ultimate employee by freeing up your actual employees to work on more critical tasks like assembly, improving processes, and overseeing operations. FRED is one of the easiest employees to train and is always safe, efficient, dependable, and on time. Heck, FRED may become your new employee of the month!

Safety
FRED automates some of the most common workplace safety hazards, removing many of the risks and dangers associated with repetitively moving materials and reducing the required space and need for forklifts and pallet jacks. Blue lights and audible beeps announce FRED's travel direction and presence. Safety sensors scan for objects or people in its path, bringing the AGV to an immediate stop upon detection.
Durability
The engineers behind FRED understand the rigors of moving up to 7,500 lbs of cargo, 25 times a day, 365 days a year. and know that downtime and excessive maintenance is unacceptable. With Heavy-duty steel construction, durable wheels, and the industry's most robust wheel drives, FRED is built like a tank, outlasting forklifts, AMR's, and other AGV's, while requiring less overall maintenance.
Applications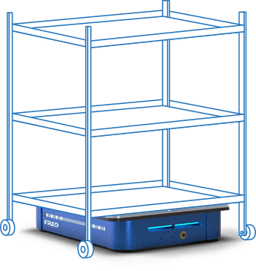 FRED is at its best when automating your routine end-of-line moving processes, but can be customized to meet various moving functions. Lifts and conveyor tops can assist in loading cargo onto FRED and unloading it into a gravity rack. Customized carts can be towed, and unique tape tracks can be designed to fit your space and integrate with other automated processes, like stretch wrapping. If you can think of it, FRED engineers can design it!
If you like the idea of automating your moving processes but don't need to haul as much bulk, check out the smaller but still mighty FREDDIE.
Summary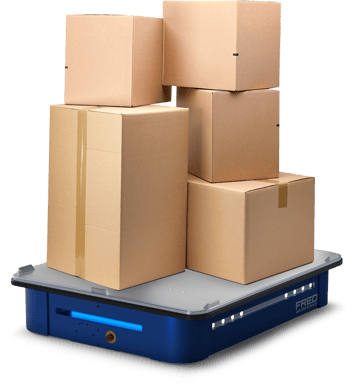 FRED is a simple, cost-effective solution to automate your daily moving processes and improve the safety and productivity of your working environment. The straightforward design makes automation achievable without a lengthy setup, needing expensive software, or involving an IT team, and the durable components ensure FRED will be your most reliable employee. So keep your employees focused on the critical tasks, not moving things from A to B, and see returns on your investment in under a year.
If you have questions or are interested in demonstrating how FRED could be used in your application, reach out to one of our experts, who are happy to help.
Resources & Information


View FRED Video Demonstrations
Explore More Technically Speaking Articles