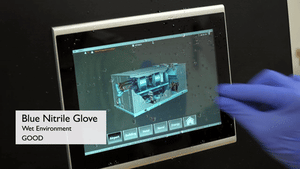 HMIs (Human Machine Interfaces) are how we control and manage industrial machines. HMI's are programmed using specialized industrial software that can differ depending on the manufacturer. Like most design software, there can be a bit of a learning curve, which is why we created video tutorials on the free & top-rated software, Visu+ Express, to get your HMI up and running in no time.



Skip to a section

:
About Visu+ Express
Visu+ is Phoenix Contact's visualization software to develop HMI screens for HMI/operator interface panels that go on a machine or system. The free Visu+ Express software provides an easy introduction to the visualization of typical operating and monitoring tasks. Visu+ Express covers all the functions typically required in HMI applications. These include, for example, comprehensive graphics options, integrated event and alarm management, data logging, trend display, and even recipe management.
The Visu+ visualization software has a multitude of communication drivers, like Ethernet/IP, Profinet, and ModBus/TCP, which enables its use in Phoenix Contact systems AND is a flexible connection to other third-party controllers.
The video series below focuses on the basics of Visu+ Express to give you a good foundation for the more intermediate-advanced concepts that Solutions Engineer Kevin Manieri from Phoenix Contact will go over in the future. You can follow along with the series with our
Getting Started With Visu+ Express
We're starting our series by showing you how to download and install the application.


Three Essential Settings
Before you start your project, make sure you know about these almost mandatory settings!


Set Your Project Up For Success
With those settings out of the way, you're ready to start your first project! We'll walk you through it, as well as how to save it and access it later!
Understanding The Visu+ Express Environment
Learn how to utilize the parts that makeup Visu+. We will go over the Project Explorer window, The Workspace screen, and the Properties, Toolbox, and Symbols windows.
Manipulating Objects With The Toolbox + Toolbars
This is our meatiest tutorial, and that's because you'll be using the Toolbox + Toolbars often as you navigate and design your screens.
Get Creative With Images
Images can be used in multiple different ways to elevate your HMI screens. Learn how to add them into your background and objects!
Using Variables
Variables are a vital element in making screen elements interact with each other. Learn how to add them to your screen and then test them!
Get Elite Phoenix Contact Support
Airline Hydraulics is an Elite Distributor for Phoenix Contact products, meaning we offer premium support for their advanced product suite. Whether you're designing an HMI screen or installing one, we'd love to help answer your questions to make your application the best it can be.




Summary
While there is a bit of a learning curve, the Visu+ Express software provides an easy introduction to creating typical operating and monitoring tasks. I hope this series helped build a solid foundation of knowledge for you to start bringing your HMI designs to life! If you want to keep learning more in-depth concepts in Visu+ Express, look out for our Visu+ Intermediate and Advanced Training with Phoenix Contact's Kevin Maneri which will be posted in the future!
Resources
Read More Technically Speaking Articles