Whether it's a particularly dusty application or harsh chemicals are needed to disinfect equipment, rough conditions are a challenge. For these applications, components need to repeatedly withstand dust, water, and chemical hazards, while also performing at peak levels. That's why IP ratings were created to rigorously test items so that you know specifically what conditions they can endure. So today we're listing some of our favorite IP-Rated industrial products, organized by category, so you can easily select some top-performers for rough applications. Let's dive into it!



Skip to a section

:
Hydraulics
Bosch Rexroth 4WE6 Valves
These valves are now available with an IP69-rated Deutsch Connector!
💧 IP Rating: IP69k
Part numbers: 4WE6J6X/EG24N9K40 & 4WE6E6X/EG24N9K40
Application: Directional spool valves, direct operated, with solenoid actuation.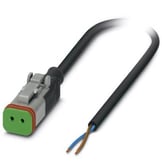 Sensor/actuator cables by Phoenix Contact

💧 IP Rating: IP67
Part numbers: PHOENIX 1410730
Application: This connector works along with the mentioned 4WE6 valves above.
Automation & Controls
X-Switch Motor Disconnect Switches by Eaton
💧 IP Rating: IP69k
Part number: 2327753
Application: Machine Disconnect switches are used to safely shut motors and other machinery down in food and beverage, and pharmaceutical environments.
E3AS Series Photoelectric Sensors by Omron Automation




💧 IP Rating: IP69k
Part number: 2497098
Application: E3AS-F sensors can be used in high-mix conveyor lines that transport products of varying colors, as well as assembly lines with restricted installation space. The Anti-Fouling Lens Coating makes it ideal for rough conditions.



FPW Series Gear Motors by Oriental Motor
💧 IP Rating: IP67
Part numbers: 1674589
Application: The FPW Series are washdown AC induction gear motors ideal for applications where they are splashed with water.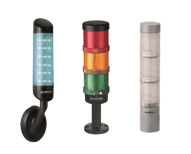 eSign Tower Lights by WERMA
💧 IP Rating: IP69k & UV Resistant Rated
Applications: These signal lights have a variety of functions that help quickly communicate statuses on the floor. From a classic signal tower, to variable filling level indications, these lights can do it all, even in harsh environments!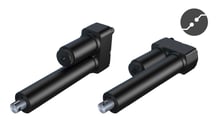 CAHB-20 Series Electric Actuators by Ewellix Controls
💧 IP Ratings: IP65, IP67 & IP69k
Application: Ewellix electromechanical CAHB Linear actuators are engineered to operate in severe environments at temperatures from -40 to +85 °C with a maximum duty cycle of 25% and consist of full metal gears with corrosion-resistant housings.
Eliminator SP Electric Actuators by E-Drive
💧 IP Rating: IP69k
Application: These actuators are designed for high-temperature and high-pressure washdown conditions.
TRIO POWER Power Supply Units by Phoenix Contact
💧 IP Rating: IP67
Part numbers: 1065976
Application: TRIO POWER primary-switched power supply in IP67 die-cast housing, 7/8″ circular connector, input: 1-phase, output: 24 V DC/8 A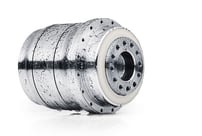 HDV Hygienic Design Planetary Gearbox and other hygienic products by WITTENSTEIN
Application: The Hygienic Design planetary gearbox HDV is the world's first planetary gearbox to be certified by the EHEDG. Safe, direct integration in the process is now a reality. In addition to Hygienic Design gearbox HDV with output shaft we now offer the gearbox HDP with output flange.


Connectivity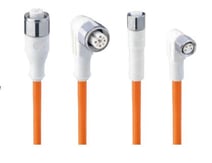 Y92e Cord Sets by Omron Automation
💧 IP Ratings: IP67, IP68, and IP69k
Part numbers: 214181
Application: Detergent and wash-down resistant polypropylene cable connectors.
HEAVYCON Connectors by Phoenix Contact
💧 IP Rating: IP67
Application: Industrial connectors from the HEAVYCON complete series protect your interfaces and ensure the reliable transmission of power, data, and signals even under the harshest conditions.
Networking
FL WLAN Wireless Ethernet Access Points by Phoenix Contact
💧 IP Rating: IP67
Part number: 2702540
Application: The FL WLAN products are IP-rated wireless access points that establish a robust and reliable wireless network around systems or machines.
Learn more in our blog, or we can help you set it up step-by-step with our WLAN Training YouTube Series!
Axioline E Remote IO Modules by Phoenix Contact
💧 IP Rating: IP67
Part number: 2268966
Application: AXIOLINE E is the decentralized I/O system for automation tasks on the machine and system engineering under harsh environmental conditions.
FL SWITCH Unmanaged Ethernet Switches by Phoenix Contact
💧 IP Rating: IP67
Part numbers: 2700200
Application: This industrial-grade ethernet switch has the flexibility to build robust and secure networks, even in harsh environments.
Unmanaged and Managed Switches by Pheonix Contact
Enclosures & Enclosure Entry Solutions
Hygienic Design Enclosures by Rittal
💧 IP Rating: IP69k
Application: An easy-to-clean, climate-controlled solution is now available for hygiene-critical production zones in the food and consumables industry.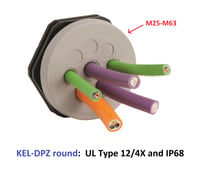 KEL DPZ (circular) & KEL DPU (rectangular) Cable Entry Plates by icotek
💧 IP Rating: IP68
Application: KEL-DPU entry plates are designed to route and seal cables without connectors (from 3.2 mm to 20.5 mm in diameter) in limited space with IP66 / IP68 / UL type 12 & 4X* ratings.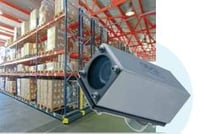 Industrial Vision Enclosures by APG
💧 IP Rating: IP69k
Application: Camera and lighting enclosures for industrial environments.
Industrial enclosures from APG
FLEXAquick Connectors by AerosUSA
💧 IP Rating: IP69k
Application: cable protection system that is extremely simple to use for such a high-rated product.
Pneumatics
SY3000/5000/7000 Series 4 & 5 Port Solenoid Valves by SMC
💧 IP Rating: IP67
Application: The M12 waterproof connector type ensures easy attaching/detaching and wiring. Applicable to the side, top, and bottom.
JSY5000-H Series Manifold Valves by SMC
💧 IP Rating: IP69k
Part numbers: JSY5000-H
Application: Clean design manifold valve for low fluid accumulation. Easy to clean!
LEY-X7 Series Electric Actuators by SMC
Part numbers: LEY-X7 – X8
Machine Safety

F3SG Light Curtains by Omron
💧 IP Rating: IP67, IP67G *1, IP69K
Part number: 2303230
Application: Easy to monitor and ready for IoT, these light curtains help keep employees and equipment safe in the most hazardous situations.
Summary
There are plenty of wonderful IP-rated products in the marketplace, and this list is by no means all of them, but they are the ones that have helped us and our customers get hard tasks done time and time again in harsh conditions.
If you need any assistance with selecting the right IP-rated products for your application, don't hesitate to contact us and we can help provide the best solution.


Related Articles & Resources




Explore More Technically Speaking Articles