"Our electrical control cabinets now have 95% commonality. This allows us to reduce cost in both assembly and commissioning, and we are now able to pre-build our electrical control cabinets before a machine order." Keep reading to learn how MAE accomplished this amazing feat!
MAE's Background

The photo above shows MAE's manufacturing floor. Photo credit: MAE
MAE, established in 1950, has locations worldwide and produces straightening machines and wheel-set presses. These machines are used in many applications, especially in the automotive and locomotive industries. Andrew Kern, Electrical Engineering and Controls Manager of MAE's US location explains,
"These machines straighten metal parts, and in some cases, within less than 5um of accuracy. The size of the presses varies from two tons to 4,000 tons based on the application. In North America, we build around 40 machines per year ranging in complexity and functionality."
It's easy to see that MAE creates customized products, as the first sentence on their website's homepage states: "Over the last decades, MAE has developed increasingly from a manufacturer of standard hydraulic presses into a specialist for selected niche markets." But creating a customized product takes extra time and resources to produce, and like any manufacturer, MAE must ensure their process is as efficient as possible to stay viable in today's marketplace.
The main goal for MAE was to reduce the production time for their presses and give their customers shorter lead times. But shortening production time is challenging, especially when your product is large-scale, complex, and customized.
Although their presses are often unique for each customer, MAE realized there is one commonality with all of them: the need for a standard electrical control cabinet. MAE knew if they could standardize their control cabinet production, their production of presses would correspondingly become more efficient.
Before receiving an order from a customer, they would be able to mass-produce the control cabinets in advance and have them ready to incorporate with the machine. In turn, this would shorten the production time of the order, meaning a faster delivery date for their customers.
By standardizing their control cabinets, sourcing components would also become simpler and more cost-effective. MAE would only need to purchase one version of the cabinet and components, which would significantly streamline their purchasing process. It would also become easier to manage and consolidate inventory to ensure the exact items are ready for production without having unnecessary items sitting on shelves, resulting in less waste.
MAE was motivated by these benefits, but they also needed to be careful about implementing new technologies and processes, knowing they must always maintain the highest quality of their products. Although changes in production can make some Quality Assurance (QA) personnel squirm, a product's quality usually improves by implementing product standardization. With a consistent product, you can ensure a pre-established standard of quality. Their uniformity makes inconsistencies in performance stand out, and it becomes easier to detect failures in the manufacturing process.
The benefits of standardizing all control cabinets aligned with MAE's goals; they just needed to figure out how to implement it with their non-standard control cabinets.
MAE had four different models of electrical cabinets, and they knew it wouldn't be easy to simplify them into one design. Andrew was tasked with researching and sourcing common components that could accommodate the different models. "Merging a total of four different control packages into one common system required us to be open to new ideas and products. This involved researching and reading about new products, some of which we would never use."
These requirements were challenging as he searched for a solution, especially when sourcing a common rotary disconnect switch. The disconnect switch needed to match the cabinet's amperage rating, which ranged from 30A to 100A. This resulted in the disconnect switches being large in some models and small in others, so other components had to be rearranged differently for each model. This created major differences in the layout and the overall size of each cabinet model.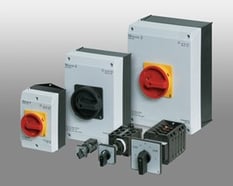 The photo above illustrates the size differences between traditional rotary disconnects. Different amperage requirements forced MAE to use different-sized rotary disconnects, which changed the size and layout of the cabinet. Photo credit: Eaton
To standardize their cabinet models, MAE needed to find a common disconnect for all their cabinet models. But Andrew found it was very difficult to source this with most manufacturers.
"We talked to several vendors and discussed our desire to have a rotary disconnect that was scalable regarding amperage and had a common disconnect position for the handle. But most manufacturers only offered a family of products where nothing was common between them apart from their appearance."
Despite these challenges, MAE was confident the time spent on this effort was worthwhile. Andrew was motivated to keep searching for solutions, stating, "Standardizing should be seen as an investment, where the returns may not be seen early on."
Andrew showed MAE's control cabinet designs to Michael Yacone, a Certified Fluid Power Hydraulic Specialist from Airline Hydraulics Corp. (Airline). Andrew explained the issues he was experiencing sourcing a common rotary disconnect to standardize the control cabinets, and immediately Michael knew what they were looking for.
After calling Eaton to help demonstrate the solution, Michael came back with Eaton's Bussman series of CCP2 fused disconnects, which is part of their CUBEFuse solution. Eaton Bussmann strongly believes in the "Power of Space," and their CUBEFuse products leverage that power to the fullest capacity. Not only do the fused disconnects provide a smaller footprint when compared to traditional rotary disconnects, but they also provide modularity with different amperage requirements.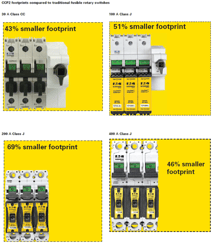 The photo above shows the space savings of the different classes of Eaton Bussman's CUBEFuse solution. Photo credit: Eaton
The Bussmann CCP2 fused disconnect base maintains the same footprint and holds its UL rating even when fusing from 100A down to 30A. With the Bussman 100A CCP2 disconnect base, MAE can essentially "plug and play" the CUBEFuse-style fuses to obtain the required amperages for their different applications. They could use the same base (the CCP2 100A disconnect base) for all of their cabinets and plug-in 30A, 60A or 100A fuses depending on their application. Andrew was very pleased when learning about this solution.
"After going over the features of the CUBEFuse, such as the locking of the fuses when power on, indicators that show when a fuse is blown, and the simplicity of replacing a fuse, we knew that this was the product that met all of our requirements and would allow us to standardize our disconnect needs. The features convinced us to use it moving forward for all of our electrical control cabinets."
MAE now stocks the standardized disconnect base on their shelves along with various CUBEFuse fuses in the amperages they require. Now when they build their control cabinets, they install the disconnect base to the DIN rail, select the correct fuse from their shelf, pop those in, and they are ready to move on to their next steps. As a result, MAE can cover many different amperage scenarios with a known small footprint. Andrew was very pleased to share,
"Our electrical control cabinets now have 95% commonality. This allows us to reduce cost in both assembly and commissioning, and we are now able to pre-build our electrical control cabinets before a machine order."
Because of the uniform and space-saving footprint of the CUBEFuse, MAE can pre-build their cabinets to 95% completion and leave additional space to accommodate specific requests from their customers. An additional benefit was being able to position the disconnect handle at the same location on the cabinet's doors. Before, they had to account for a different location per cabinet model, which changed the location where the hole needs to be drilled in the cabinet door. Now, the hole gets drilled at the same location for all models, allowing them to manufacture the cabinet housing according to a single drawing.
Not only has the CUBEFuse made a time-saving impact on their production process, but their end-users also enjoy its benefits. Andrew is proud to highlight the Eaton CubeFUSE when showing customers their press's control cabinet, stating,
"When customers come to us for Machine Acceptance, the Eaton CUBEFuse is something they notice right away, and they state how compact the disconnect is. We then go into detail regarding the benefits and they are very impressed."
The revolutionary CUBEFuse series delivers the smallest footprint compared to any Class CC, J, or RK fuse solution, requiring up to 70% less space when combined with its unique fuse holder, and even less when combined with its compact circuit protector switch.
CUBEFuse Product Specifications
World's first finger-safe fuse system

UL Class CF with Class J time-delay electrical performance

Holders and switches are amp rating rejecting to help prevent over fusing - 30, 60, and 100 A switches and holders will hold any CUBEFuse up to its rating, 200 and 400 A switches and 200, 225, and 400 A holders will hold any CUBEFuse 110 A and above up to its rating

Indicating versions allow for faster troubleshooting and reduced downtime

Faster response to damaging faults helps reduce destructive thermal and magnetic forces

Up to 300 kA interrupting rating safely interrupts virtually any fault

Low let-through currents under fault conditions
MAE and Airline Hydraulics Corp. look forward to working together on future projects. Andrew was extremely thankful for Michael's assistance standardizing their control cabinets.
"Working with Mike from Airline is always a wonderful experience. He takes great pride in his job. And with his skill set, he is always able to provide us with recommendations for what product will work for our current applications."