This blog explains different options for HMIs and what kind of HMI you should be looking for based on a few application questions.

Watch our video on the topic here, or keep reading below for the information!

Jump to a section:


Types of HMIs | Touch vs. Web | HMI Families | Learn How | Summary & Resources
What is an HMI?

An HMI (Human Machine Interface) is the hardware or software that operators interact with to control machines. HMIs can be physical control panels with buttons and indicator lights or industrial PC touch panels with color graphics.
Types of HMIs
There are four main types of HMIs that all serve different purposes:
- Standard HMIs are the touch panels most commonly used and connect to many different PLCs.
- Web Panel HMIs have HTML 5 built-in for web server applications.
- Outdoor Readable HMIs are used to combat glare and touch sensitivities.
- Maritime HMIs meet unique ratings required for shipbuilding.
Touch vs. Web Panels - Which Do I Choose?
Touch and web panels are the two types of panels you'll likely need for your applications, and your unique needs determine which one is best for your application.
Touch Panels, the standard HMI for automation and manufacturing, support major communication protocols like Ethernet IP, Profi Net, and Modbus TCP to communicate with most PLCs on the market today, such as Rockwell, Siemens, Schneider, and PxC. Once an HMI program is created, linked to the touch panel, and the panel connects to the PLC, the HMI program is loaded to the HMI panel directly, where it works with the PLC to automate and visualize a process.
Web panels are HTML 5-based HMIs. They do not store any visualization locally but rather point to an IP address of ANY web server and display the HMI screens built into the web server. These HMIs are perfect for use with Phoenix Contact controllers because Phoenix has a built-in web server inside their PLCs. Therefore, you will create the HMI screen inside the PLC via the programming software, and then the web panel points to the PLC's IP address and displays that screen. This display is especially great for IoT applications where users want to view the screens remotely so staff can monitor the machine from anywhere.
HMI Families by Phoenix Contact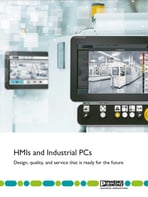 Phoenix Contact has manufactured HMIs for over 25 years. Their touch panels have the BTP and TP series, and their web panels have the BWP and WP series. The control panels are available in various display sizes and screen formats.


Learn more about Phoenix Contact's HMI and Industrial PC offerings by downloading their brochure.

Touch Panels (TP & BTP) Standard HMI Models


Phoenix Contact's touchpanels have the TP and WTP series. The BTP Series is an essential model for a cost-effective primary operation option. It has three display sizes, an analog, resistive touchscreen, a plastic housing, and a slower processor with no graphics co-processor. As a result, it comes with a much more value-oriented price tag.


The TP Series is the upscale HMI model that comes in 6 different display sizes with a capacitive, multi-touch screen, a metal housing, a faster processor and graphics co-processor, and a more extensive range of operating temperatures.
Both versions can use the integrated Visu+ software, making it easy to design complex user interfaces and use flexible connections to a wide range of third-party control systems with
preinstalled drivers.
Web Panels (WP & BWP) HTML5-based HMI Models


Phoenix Contact's web panels have the BWP and WP series. The BTP Series is the more basic value model, and the TP Series has upgraded features. Both operator panels have an integrated web browser display for all web-based visualizations that support the current HTML5 standard.
Among other HTML5 visualization tools, you can also use their PLCnext Engineer HMI to create custom web-based visualization very easily. No web skills are required since the software offers symbols and templates to be easily extended to your needs. These operator panels with open browsers allow the display of web-based visualizations without any restrictions.
Step-by-Step Guide: How To Program HMIs


Ready to tackle the software side of HMIs? We've got a whole series on how to get started with Phoenix Contact's free HMI software, Visu+ Express.
Summary
Today's blog reviewed the different types of HMIs. Phoenix Contact has been manufacturing HMIs for over 25 years, and as an authorized distributor of Phoenix Contact, we specify, stock, and support their wide breadth of products and automation solutions.
Contact an Expert!
If you have questions about HMI in terms of variants, hardware configuration, or even VISU +, feel free to contact me so I can help you with your applications.
Tools & Resources
Read More Technically Speaking Articles