In what day and age did you think you would have a robot coworker? It may be coming sooner than you think! Students at York College of Pennsylvania, now supplied with Omron's TM Collaborative Robot, are finding new innovative ways to utilize collaborative robots (cobots) in modern-day laboratories and manufacturing environments. When offered to contribute towards this effort along with MRG labs, Airline was eager to jump in and help.
Read the story in York College Magazine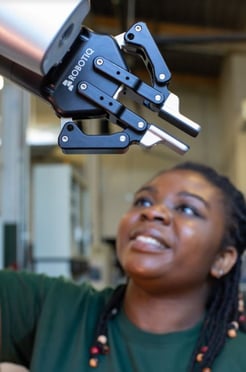 Airline worked on a state grant for robotic automation of a lab through York College and MRG Labs, This supplies students like Mikaela Domingo (pictured right) the ability to program and use a cobot in their daily activities. With the cobot, student interns participating in the project will free themselves from performing mundane and repetitive tasks in a lab (leading to more learning and less downtime), and gives new opportunities for students to find solutions in manufacturing that incorporate the help of cobots.
As employee-owners and individuals, Airline is thrilled to be partners of York College's project—"Developing Modular Cobot Automation Solutions for the Testing Environment"— because it allows us to pass our years of expertise along to the next generation.


About the Grant
The Pennsylvania manufacturing initiative funds nearly $2 million across 29 different projects that help advance innovation in manufacturing sectors such as advanced medical, waste sustainability, and artificial intelligence. The initiative pairs manufacturers with top graduate and undergraduate students to work on projects and new technologies to advance innovation statewide.

The grant will provide several students at York College with an opportunity to find solutions in manufacturing that incorporate the help of cobots, which are robots that streamline automation. The cobots are typically programmed to repeat simple tasks, providing cost savings to labs and removing the risk of human error.
State Senator Kristin Phillips-Hill stated, "Good things happen for our region when academic and industry leaders come together to find innovative solutions to complex problems. York County is well suited to host this partnership because we have never forgotten our deep roots in the field of manufacturing."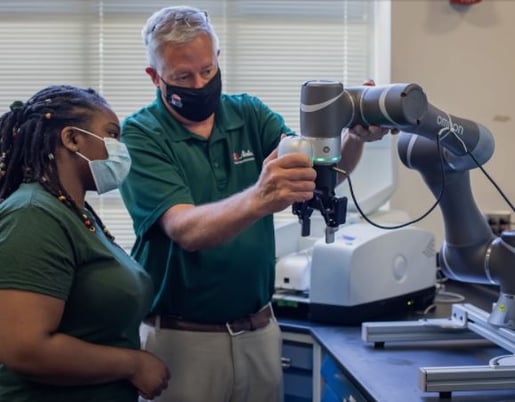 York Colleg's Mikaela Domingo and Airline's Steve Heistand
About York College's Program
"This grant provides an opportunity for us to have a blended, team approach to understanding how cobots can work alongside humans," Professor Greg Foy says. "We've not been able to find anyone doing this kind of research related to analytics labs. It's incredibly impactful work that students can learn from and say, 'I contributed to this.'"
The cobots York College students will be working with each have a camera and a six-joint arm. The camera reads a bar code giving instructions, explaining the type of instrument the cobot is placed in front of and the process it will perform. The cobot follows through with its programming and the training, putting a lab sample into an instrument where data can then be read and uploaded to a server. That's where the work begins, Foy says.
Now, a technician, often a chemist or engineer, looks at the data and determines the next steps for meeting a client's needs. In addition, the cobot is trainable to automate a variety of systems with different instruments and different methods. For example, MRG Labs will run several tests on a single sample, performing grease and oil analysis, conducting grease and oil analysis. So developing automation systems for some of their testing could be incredibly beneficial, Foy says.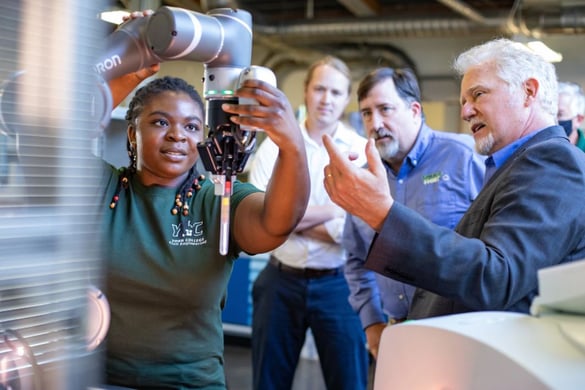 Left to Right: Mikaela Domingo adjusts the cobot watched by Oscar Winters, Rich Wurzbach, and Greg Foy.
Summary
Airline is proud to partner with York College's "Developing Modular Cobot Automation Solutions for the Testing Environment" project, which aims to use robots in a laboratory setting to increase efficiency, reduce technician exposure to harmful chemicals, and increase reproducibility.
Resources:
Puppy vs. Collaborative Robot SHOWDOWN 🐶🤖 WHO Can Learn a New Trick Faster?