Earlier this summer, boy scout troop 56, from Lacey, New Jersey, found themselves in a pickle. They planned an epic trip to camp at a remote destination, but one problem after another left them wondering if the trip was even possible. Determined to make it happen, Camp Master and committee member Bill Elmer found an unlikely solution in aluminum extrusion, making their trip not only doable, but the best ever.
Jump To Section:
Planning The Trip | Obstacles | A Custom Solution | Summer Camp Fun

Planning the trip
It's late 2019, and the Troop 56 Boy Scout Committee is discussing ideas for next year's activities. The Troop visited their local summer camps many times before, and while they can be a merit badge fair, the troop didn't need more badges because of their hard work during the year.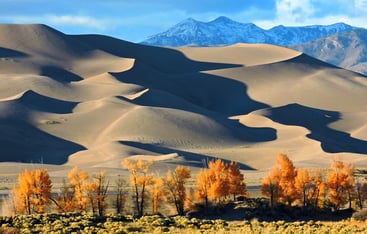 Venture Patrol Scout Master, Tom, suggested taking their trip to the next level by traveling to the Great Sand Dunes National Park in Colorado for an epic summer trip.
They've done some fantastic traveling adventures in the past, and the Dunes has impressive hikes, sandboarding, waterfalls, hot springs, and stars so bright it feels like you can almost touch them.
The bearer of bad news
One by one, committee members enthusiastically supported the trip to the Dunes. That is until it got to Camp Master, Bill Elmer.
"I'm out," Bill said.
There was silence for a moment. Bill is usually the first person in support of Tom's ideas. Bill explained that while the troop had gone on some big trips before, it was with a smaller group of experienced scouts. This trip would have 50 people.
He also explained that summer camps provide all of the tents, activities, and meals. So if they wanted to go outside an established camp, they would need to provide all the shelter, food, equipment, and activities themselves.
It's never fun to be the bearer of bad news, and that's the situation Bill felt himself in. He estimated it would take at least thirty-thousand dollars to send 50 scouts to the Dunes.
Dejection fell in, as he could tell everyone's hearts were already set on the trip. Obviously, he wanted them to be able to go if they could, but he also wanted to be realistic. Maybe there's a way they can work through what needs to happen to bring this trip into reality.


Finding a way
The team began to divvy out responsibilities, like who would be in charge of organizing food, fundraising, transportation, activities, etc...
Then, COVID-19 hit.
The trip got postponed, and the Troop's immediate activities were hindered. Although it was a setback, this ultimately gave the committee more time to plan fundraising events and gather equipment. With help from local businesses, friends, family, neighbors, and Troop 56's committee members, the Troop raised enough money to get the supplies they needed to make the trip!
One last hurdle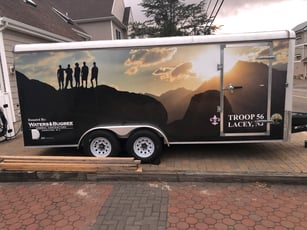 It seemed like things were finally falling into place for the scouts to have an amazing trip. But the biggest question of all still had no answer:
How would they transport all of the equipment they needed for 50 people in their small trailer?
Remember, they needed to bring everything for their trip - food, shelter, activities, etc.


Counting on a friend for a custom solution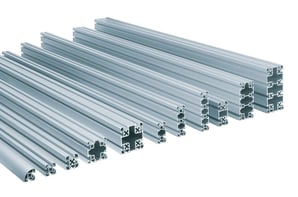 Sometimes it all comes down to who you know, and Bill knew just the guy to talk to. His neighbor, John Guckin, always designs custom solutions for his job at Airline Hydraulics! Excited to help, John grabbed his tape measure and sketch pad and started planning.
To John, it was clear that their griddle was taking up a lot of space in the trailer, and a space-saving solution would be essential to fit all of their equipment.
Right away, John took measurements and sketched an idea for a modular-style griddle stand for the Troop's Blackstone griddle. So, they cut the legs off the griddle, and John built a lightweight and space-saving frame from Bosch Rexroth's aluminum extrusion that they could easily store and assemble on-site,
With their new griddle stand, Troop 56 could now store, travel, set up, cook, and break down the Blackstone griddle quickly and easily, and most importantly, save crucial space in their trailer to fit everything they need for their trip.


The BEST trip EVER!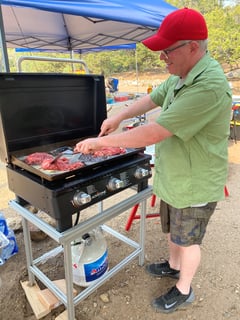 The big day was finally here! In July 2021, Troop 56 packed their trailer with all of the equipment, meals, tents, activities, and of course, their custom-built modular grill stand from Airline, and made their way to the Great Sand Dunes Summer Camp with 45 scouts.
Camp Master Bill and Scoutmaster Frank drove 2,000 miles each way with the scouts and their new equipment, staying at the Pinon Flats campground.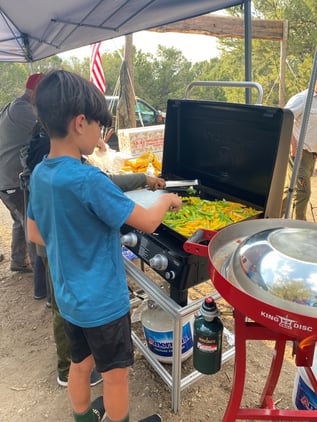 Troop 56 cooked many meals together, including; pancakes, bacon, French toast, western omelets, fried chicken, steak sandwiches, quesadillas, tacos, hot dogs, hamburgers, and homemade French fries.
The custom-built griddle stand played a big part in giving Troop 56 the space and ease of use they needed to make their trip a reality. Troop 56 is already planning their next trip to The Black Hills, and they want an even bigger and better stand to come along next time!
Summary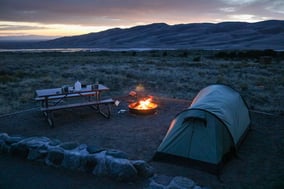 Troop 56 planned an epic summer trip to the Great Sand Dunes National Park, but along with many other obstacles, they didn't know how they would fit everything for a camping trip of 50 people into their small trailer. John Guckin and Airline Hydraulics designed and built a modular griddle stand out of aluminum extrusion that saved a crucial amount of space in their trailer, allowing them to make their trip!
They had a wonderful trip and loved the griddle stand so much, they want an even bigger and better version to come along on their next adventure!
Resources and Information
Airline is your one-stop shop for all things aluminum extrusion, see our structural framing services here, and shop products here!
Shop Bosch Rexroth Products
How To Build Anything with Aluminum Extrusion | YouTube Tutorial Playlist
Contact Us!
Ask your Airline Rep. or contact us for assistance with ordering or customizing an order.
800-999-7378