Words can't describe how excited we are to announce that today we have launched our new and improved website, airlinehyd.com. For over a year, our dedicated team has created, collaborated, and refined our custom-built new site, building a new experience from the ground up. Through ups and downs, they stayed focused on our goal of making the best purchasing and informational tool available. As a result of their hard work, online ordering, viewing product pricing and availability, reviewing order history, tracking shipments, and more, have all been upgraded to improve the website experience.
Still, some may ask why Airline decided to create a whole new website from scratch. Didn't Airline already have a website?
Yes, Airline already had a good website, with a good e-commerce. But sometimes good isn't enough.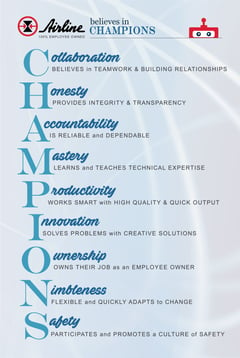 One of my favorite words of Airline's CHAMPIONS Core Values is "nimbleness," the ability to quickly adapt to improve oneself. With our old site, we were locked into a legacy framework that made it difficult for our developers to implement changes needed for improvement and growth. So, to become nimble and be able to move with the winds of change, we needed to build a rock-solid foundation. Our team took this task to heart, and while it took a lot of time and work, we know it has paid off.

With the new site, we're free to adapt to the needs of our customers and take advantage of new technologies and opportunities to improve the customer experience. The new framework also provides faster speeds, a clean, modern design, an improved eCommerce experience. Even better, we'll keep rolling out new improvements and features with greater speed than ever. This is all possible thanks to all the members of our fantastic development and item data team who worked tirelessly to create the new airlinehyd.com, our marketing team who gave it a great fresh look, and our customer service team, and even some customers who've provided amazing feedback and support to help us test all the new features.

On a final note, please remember that airlinehyd.com is a living and breathing part of our business. It will never be "done." Like all living things, it will adapt, change and grow with the world around it. With our amazing team working together internally, we're excited for all the new ways our website will help us serve our customers' needs now and in the future. We hope you'll come along on this journey by creating an account, using its features, and experiencing it for yourself.

Jump to Section:

Watch our website launch video

New site enhancements

Speed

If you appreciate long loading times for personal reflection, we're sorry, but our new website is not for you. So instead, enjoy our website's updated and faster platform, so you can pull search results, browse item detail pages, and more, all at more incredible speeds than ever before.

Refreshed Design

We find there's beauty in simplicity and elegance in clean function. That's why we cleaned up our website design to feature clear, straightforward, and visually appealing elements. As a result, it's also easier than ever to view and shop for the components you need.



Improved E-Commerce
Searching for products, using our item filtration features, viewing pricing and availability, and other online ordering functionalities have all been improved in speed and functionality.

Endless Possibilities

The new airlinehyd.com's open foundation opens endless opportunities for future website development. So stay tuned for more incredible features to come, including product builders and configurations.
New Site FAQs
Can I still shop online?

Yes! And your shopping experience will be better than ever.


Do I need to do anything different on the new site?

When you first sign in to your account on the site, you will be prompted to update your password. This one-time reset is required due to increased security. You will be guided through the simple process which includes authenticating your account's email address.
After you reset your passwords, the overall functionalities will be very similar to what you're already used to on www.airlinehyd.com.


Do I need a new website login?

Nope! Your current login will work just fine with the new airlinehyd.com. However, you will be prompted to update your password due to increased security. You will be guided through the simple process which includes authenticating your account's email address.
Don't have an online account with us? Create your account today!
Is my account information on the new site?

Everything you're used to accessing on your account (order history, tracking info, etc.) will be available on the new airlinehyd.com.


Is it mobile-friendly?

Yes! Shop and browse the new airlinehyd.com from your phone, tablet, or computer.


Is there still factory stock?

All of the factory-stock information from the old airlinehyd.com will be available on the new website.


If you have any questions or require assistance with the new website, please email websupport@airlinehyd.com
In Summary...
Airline and I are proud to announce a new website launch, offering a new framework that provides a better user experience, increases the site's speed and user interface. But don't take our word for it - see it for yourself at www.airlinehyd.com.
If you have a question or comment about this post, please leave it in the comments below!
Additional Resources:
Contact Us:



If you have any questions or require assistance with the new website, please email websupport@airlinehyd.com

For customer service or order assistance, contact us here
800-999-7378